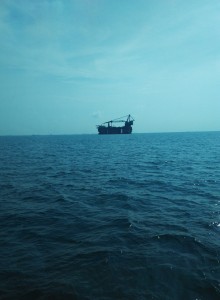 A friend asked me what I would like to have if I can choose any special power.  Anything at all.  Here's what I would like to have:
I would like to be able to just snap my finger and have all sentient beings be completely, perfectly free from suffering, to be perfectly awaken, to be perfect, to be Buddha!
But alas!  No one can make others enlightened.  We must work on our own liberation, we must do the cultivation ourselves.  Enlightenment is not granted or or conferred.  It is not given.  It is through our own humanly possible effort that we work on shortcomings, flaws, faults, defilements and agitations in the mind.  To work on the habitual tendencies that compels us to repeat our mistakes.
Until one day, we cut the fetters that bind us.
That may seem bleak to some, that no one is there to save us, that we have to do it ourselves.  The good news is that we are not alone in doing this.  We have the teachings of the Buddha as our guide and instruction manual if you will.  What it means is that we are responsible for our happiness and no one else.  It also means that we are in charge and do not have to submit to someone else's whims and fancy, to placate or please, to cajole or beg for liberation.
Two weeks from now, we celebrate Vesak in Singapore.  We celebrate this conquering of suffering through humanly possible effort.  We celebrate this potential, this Buddha nature, that is in all of us, in every sentient being, regardless of our race, language or religion.  Or for that matter, species.
May all beings be free from fear, free from harm,
May all be well and happy!
PS: So my friend, what super power would you like to have? 😉
Reference
Dhammapada XX: Maggavagga 275 – 276
275. Walking upon this path you will make an end of suffering. Having discovered how to pull out the thorn of lust, I make known the path.
276. You yourselves must strive; the Buddhas only point the way. Those meditative ones who tread the path are released from the bonds of Mara.