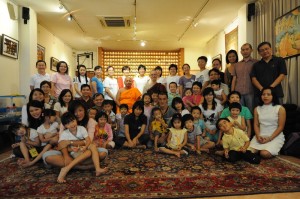 We are excited to bring to you the Buddhist Library Bodhi Kid's programme that aims to welcome our lovely young parents and their kids to the wonderful world of Buddhism.
The programme is targeted at kids from age 4 ~ 7 and is designed to spruce up their little vibrant minds while giving their active body a chance to grow and develop. Geared towards getting the child and parent in the family to grow both bodily and spiritually, each child (or two) have to bring along their parent who will be active participants in the year-long programme.
Monthly themed based learning that engages the whole family, the parent and child will embark a journey on each weekend to learn and experience through games, songs, art & craft, yoga, simple puja (chanting) and meditation geared towards kids of that age.
The Bodhi Kid's programme started on 9th Jan 2011
* Every Sunday @ BL 10am ~ 12pm with lunch for kids and parents provided.
* Limited places: 15 ~ 20 children. Later registrations will be placed on wait list.
* Parental participation: Compulsory. At least one parent must be present, with a maximum of 2 child per parent.
* Fees: $10 per month.
Registration

For more information and registration, please email or visit the facebook page http://www.facebook.com/pages/Bodhi-Kids/162392927114041.